Success on a smart building project depends upon several key factors. These include focusing on the end-user experience, knowledge of IT and building systems, an integrated design approach, and planning for data collection from the start. These are just a few of the points that The Clarient Group's president and CEO Charles Buscarino made in his presentation on the American Dream project at Realcomm's CIO Forum in New York City on September 25th.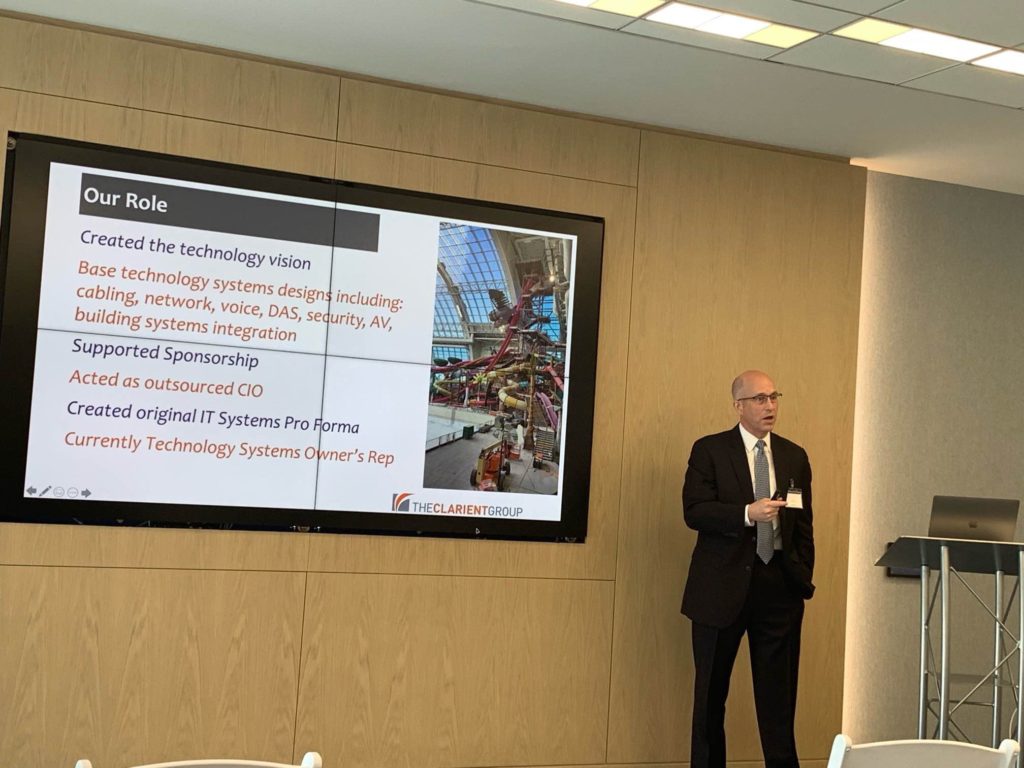 American Dream Meadowlands (ADM) is a 3 million-square-foot entertainment and retail destination developed by Triple 5, the developer of Mall of America and West Edmonton Mall. ADM, located in East Rutherford, New Jersey. It is set to open on October 25th.
The project's story goes back to 2003 when another development team was awarded the opportunity to develop a retail/entertainment venue at the Meadowlands, then named Xanadu. TCG was part of the original design team providing technology master planning and subsequently design services. The firm's initial design included a fully integrated IP-centric technology backbone which made it robust without a single point of failure. This allows it to operate 24/7/365. When the Great Recession hit in 2008-9, the development was stopped as financial backers defaulted. Triple 5 (T5) took over the development in 2011 and changed the name to American Dream. TCG has continued on the project under T5, providing design services and finally, technology systems oversight as the project neared completion.
T5 redesigned the mall to adapt to the changes technology has had on brick-and-mortar retailing. They also drew upon their successful formula developed at Mall of American and West Edmonton Mall, where the entertainment venues are primary attractions. ADM has 55% of its space related to entertainment venues – a variety that includes an amusement park, water park, theaters, an aquarium, and even an indoor ski slope. 45% of the space is devoted to retail and includes over 350 stores ranging from affordable to ultra-luxury retailers. AD also includes over 100 dining options – from casual to full scale.
Despite these changes, the thoughtful planning and design work perfumed by TCG allowed the IT infrastructure to adapt to these changes and not become obsolete. With the addition of new venues, the IT backbone is set to support over 90 sperate systems, many having hundreds and even thousands of connected devices. These systems provide the property manager with the capability to capture and analyze visitor data and enhance these individual's experiences while at the development.
The successes of the technology systems design and implementation are measurable. It saved up to $36 million in capital and operating costs and 8% in design costs. Future analytics will include measuring how successful the technology is in generating traffic and sales at ADM. The Realcomm CIO Forum series is open to CIOs and other senior IT professionals in the commercial real estate development, REIT, owner, brokerage, investment management and related service industries in selected markets globally — New York, Sydney, Toronto, London, Chicago, and San Francisco.